Hungry? In a hurry? Grab Hunt Brothers Pizza® on the go!
Each pizza is baked hot and fresh. Order a hunk or several whole pizzas however you'd like or pick up a freshly made already prepared option. Call ahead, pick up through the Drive Thru or just come inside. We accept bulk orders!
Menu items may vary by location.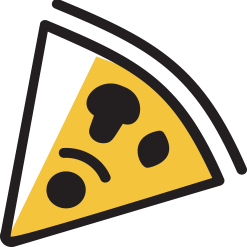 ORIGINAL CRUST
Available as a large 12" pizza or Hunk A Pizza® (1/4 of a large 12″ pizza)
Our Original Crust is a self-rising 12" crust covered in our signature tomato sauce and 100% natural part-skim mozzarella cheese. With cheese spread to the edge of the crust, there is nothing basic about this classic.