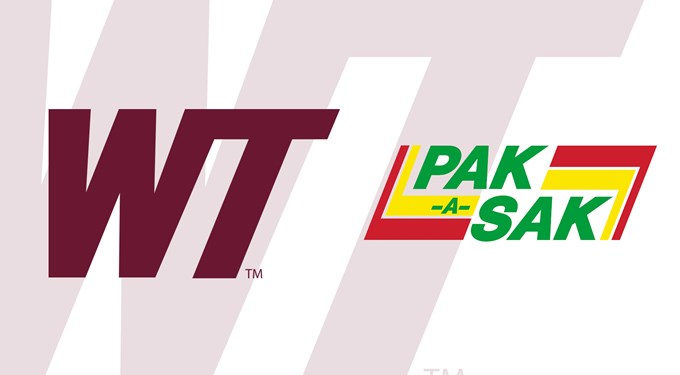 CANYON, Texas – West Texas A&M Athletics and Pak-A-Sak have entered into a three-year partnership, making them the first cornerstone partner for Buffalo Stadium.
"Pak-A-Sak has been a great partner of WT athletics for more than two decades and we are proud to expand our partnership with the opening of Buffalo Stadium," WT Athletic Director Michael McBroom said. "We appreciate the McKee family and the great employees at Pak-A-Sak who serve our community on a daily basis. At the end of the day, our fans and students will be the biggest beneficiary by virtue of products, discounts and fun promotions throughout the season."
"We are very excited for the new stadium as it will be first class," said Pak-A-Sak President Terry McKee. "We are also excited to be a corporate partner with West Texas A&M as both Canyon and WT has a special place in our heart as we first started our business there."
The partnership includes branding on all four concessions at Buffalo Stadium that is set to open on Sept. 7 when the Buffs host Azusa Pacific. Edes Beef Jerky will also be sold at the stadium. Pak-A-Sak will also donate $250 to Snack Pack 4 Kids for every sack by the WT defense during the 2019 season.
Pak-A-Sak is a convenience store chain that has 22 different locations throughout the Texas Panhandle. In 1978 Dale and Joyce McKee opened the first Pak-A-Sak convenience story in Canyon. They are being committed to being engaged in the communities they operate in by community involvement and philanthropic giving.
West Texas A&M competes in NCAA Division of the Lone Star Conference with affiliate membership in the Heartland Conference.
For all sponsorship opportunities in buffalo stadium call Christian Suthers at 806-656-1354or email csuthers@wtamu.edu.